The correct storage of down duvets for long-lasting comfort
Down duvets are indispensable for many people to ensure a good night's sleep and a comfortable sleeping climate. The cosy duvets offer natural thermal insulation and are breathable at the same time. This makes them a perfect choice for different seasons. To maintain the longevity and quality of your down duvets, it is important to store and care for them properly.
In this blog post, we give you helpful storage tips and explain how you can best protect your down duvet.
Cleaning and drying before storage
Before storing your duvets for a long time, it is important to clean them thoroughly. The duvet cleaning removes dirt, dust and any mites that have accumulated over time.
Be sure to follow the manufacturer's cleaning instructions to ensure optimal material protection and not to damage the down filling. After cleaning, the bedding should be dried completely to avoid mould and unpleasant odours. It is best to lay the down duvet out flat to dry. Then turn them regularly to ensure even drying.
In general, however, the following applies: Less is more! It is best to clean your down duvet as infrequently as possible, i.e. only when it is really necessary.
Protection against moisture, dust and mites
To protect your down duvet from moisture, dust and mites, it is advisable to store it in a breathable storage bag or slipcover. Do not use plastic bags as they restrict air circulation and can therefore promote mould and odours. Breathable materials such as cotton or linen are ideal for keeping your down duvet hygienic and in good condition.
We also recommend adding a lavender sachet, some cedar wood or a handful of walnut tree leaves to the storage bag. This keeps your quilt smelling good and repels pests such as moths.
Choose the right place to store down duvets
The ideal place to store your down duvet should be cool, dry and well ventilated. Avoid damp rooms where condensation and mould can develop. Places that are too warm can cause the down filling to dry out and lose its insulating properties. Cabinet storage or cubbyholes that provide constant temperature and air circulation are good options for storing down duvets. This applies equally to winter storage and summer storage.
Avoid too much pressure on the down filling
When storing your down duvet, it is important to make sure that it is not compressed too much. This can damage the feather filling and impair its bulkiness. Avoid placing heavy objects on the down duvet or stowing it in too confined spaces. One way to save space and still store the down duvet gently is to use vacuum bags.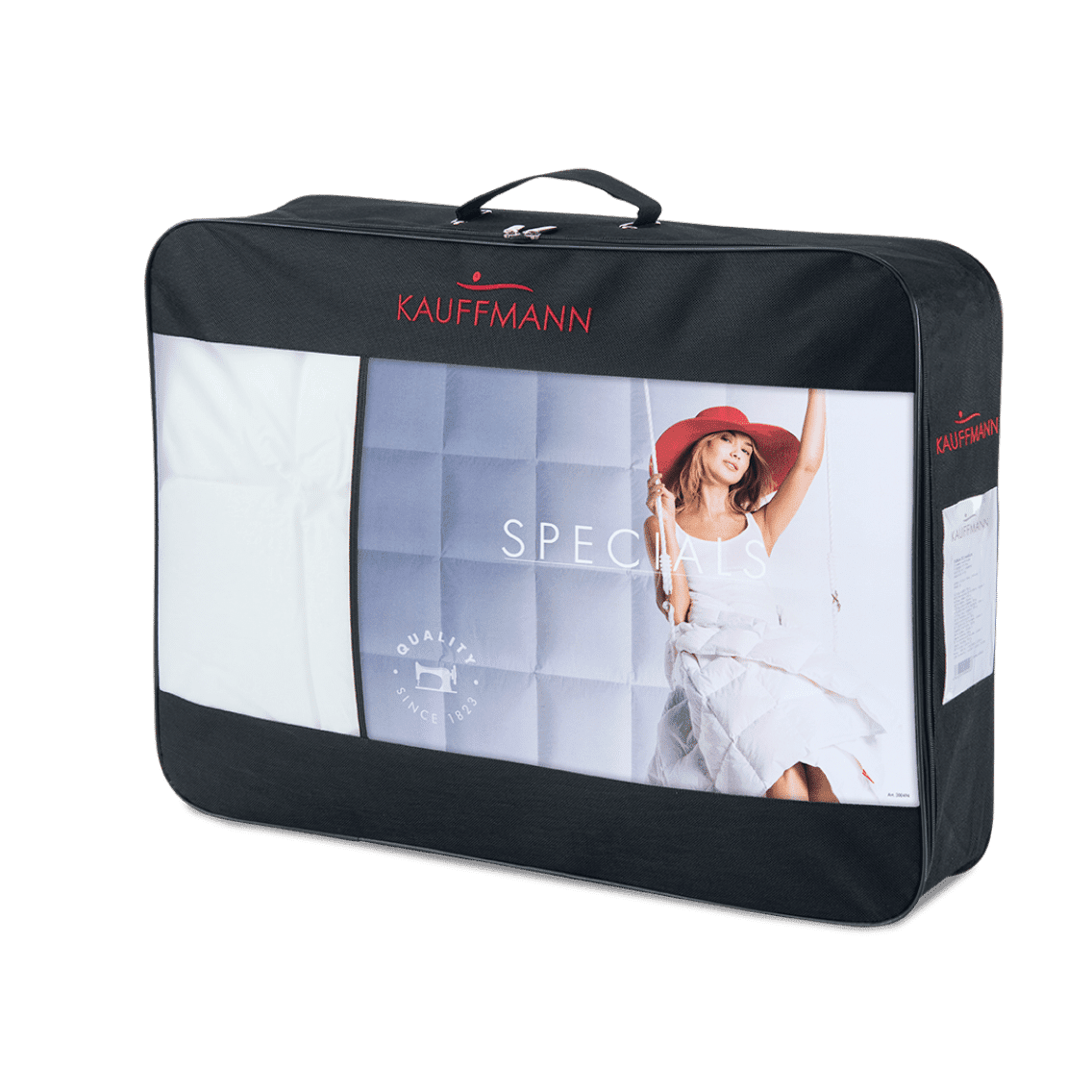 Store down duvets in special outer packaging
Down duvets should be stored in breathable storage bags or a slipcover made of materials such as cotton or linen. These materials allow good air circulation and help maintain hygiene and good condition.
Never store down duvets in plastic packaging or other air-impermeable containers.
Down duvets should not be stored in plastic bags or other air-impermeable packaging. These restrict air circulation and promote mould growth or unpleasant odours.
Wash down duvet before stowing it away
It is recommended to clean down duvets thoroughly before storage to remove dirt, dust and any mites. Be sure to follow the manufacturer's cleaning instructions. Dry the down duvet completely afterwards to avoid mould and odours.
Store your blanket in a cool, dry and well-ventilated place
Down duvets should be stored in a cool, dry and well-ventilated place to avoid humidity, mould and temperature fluctuations. Suitable storage locations are cupboards and storage rooms that offer a constant temperature and sufficient air circulation.
The ideal storage is regardless of whether you have goose down filling, duck down filling or eider down filling
Basically, the same storage rules apply to down duvets, regardless of the type of down filling. Goose down, duck down and eider down are all sensitive natural materials. They require proper care and storage to maintain their quality and longevity. Be sure to follow our care instructions for your down duvet to ensure the best possible care.
Do the same rules apply to down pillows?
Yes, because down pillows are technically nothing more than small down duvets. Therefore, the rules for storing down duvets apply equally to your down pillows!
Recycle or donate instead of disposing
The disposal of a down duvet can vary depending on the recycling and disposal options in your region. Here are some options you can consider:
Donations:
If your down duvet is still in good condition, consider donating it. Grateful recipients are, for example, charitable organisations, animal shelters or shelters for the homeless. Often such institutions can use bedding for their clients or animals.
Recycling:
We accept old down duvets and pillows free of charge and recycle them.
Return address:
Sanders-Kauffmann Recycling
Maschstr. 2, 49565 Bramsche
But also many local blanket dealers in your area offer a reconditioning of your down duvets or pillows – just ask!
Waste disposal:
If there are no recycling facilities in your region and the down duvet is no longer usable, dispose of it in the regular household waste. Observe the local regulations for waste separation and disposal of bulky waste.
It is advisable to ask your city or municipal administration what disposal options are available in your area. This way you can quickly find out which method is best suited for the disposal of down duvets at your location.