Sleep without sweating with the CLIMABALANCE down duvet
Good sleep is one of the most valuable commodities known to man – who wants to wake up unrested? Anyone who knows about sleep deprivation, poor night's sleep and problems falling asleep or even real insomnia knows how important restful sleep is for well-being. So it is no wonder that for most people the following factors are most important for a good night's sleep:
an optimal sleeping climate
maximum sleep comfort
no night sweats
a good sleep rhythm consisting of deep sleep and REM sleep
no waking phases if possible
Many of these factors are closely related to the choice of the right duvet. If you ask professionals or even scientists, they often recommend Climabalance down duvets. Because the worldwide patented Climabalance down duvets from Sanders-Kauffmann have been proven to ensure deeper sleep.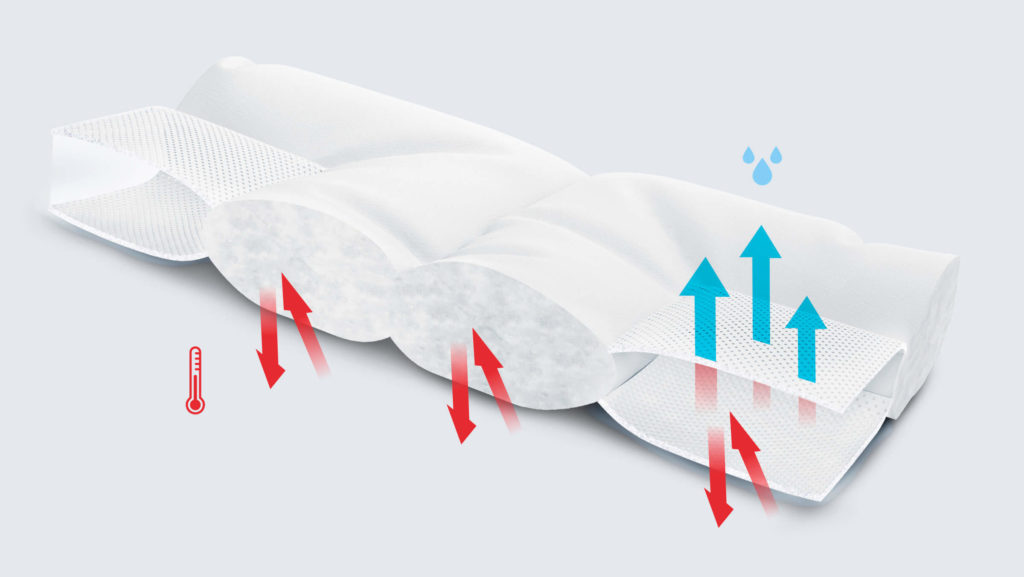 What is a Climabalance down duvet?
The Climabalance down duvets from Sanders-Kauffmann combine the worldwide patented CLIMABALANCE® climate system with the expertise of one of the most renowned down duvet manufacturers in the world.
Thanks to natural raw materials, the finest cotton batiste and first-class fillers, Climabalance down duvets keep you dry and warm without trapping moisture or heat.
The patented CLIMABALANCE® climate zones create cosy warmth, but at the same time offer high moisture and air permeability. This creates a uniquely dry and well-tempered sleeping climate that offers maximum sleep quality.
Are there any scientific studies on Climabalance down duvets?
Sanders-Kauffmann GmbH in Bramsche, Lower Saxony, holds the licence for its own development of the Climabalance principle.
On this basis, the internationally renowned manufacturer of down duvets has used all its expertise and developed the Climabalance down duvet.
In addition to the patented Climabalance technology, it contains the best components from Sanders-Kauffmann: natural down for the filling, high-quality woven cotton batiste "Bramscher Tuch" with SanProCare sensitive refinement for the cover.
The result is the Climabalance down duvet collection from Sanders-Kauffmann, which offers the right duvet for all seasons and sleeping needs.
Climabalance down duvets enable scientifically proven:
The company had blankets from the Climabalance Collection tested by the renowned sleep researcher Prof. Dr. Dr. Jürgen Zulleyan of the University of Regensburg.n. The results of the study are clear:
Falling asleep quickly
deep sleep
Fewer phases of being awake
Verifiably more sleep
An up to 50% longer deep sleep phase
longer REM phases
In short: Climabalance reduces sleep movements. And ensures a more peaceful sleep. In addition, Climabalance down duvets extend the deep sleep phases, which are important for the body's regeneration, by up to 50%.
Science confirms it: Climabalance down duvets strengthen the immune system and increase well-being and vitality.
Climabalance: wide range of products for better sleep
The Climabalance down duvets offer a sleeping experience of the best kind. The CLIMABALANCE® technology ensures a dry sleeping climate and thus a perfect sleeping experience. It offers optimal sleep hygiene as it is also hyperallergenic. It is available as a year-round duvet or as a seasonal duvet in various warmth levels, offering sleeping comfort for every season. Sanders-Kaufmann, one of Europe's leading manufacturers of down bedding for over 130 years, offers a wide selection of Climabalance down duvets.
Climabalance First Class down duvets
Climabalance Home down duvets
These down duvets are available in three warmth classes – light, medium and warm – and in eleven sizes from 135x200cm to 260/240cm. All Climabalance First Class down duvetsare filled with high-quality 100% Mazurian goose down.
They are wrapped in fine Bramscher Tuch made from 200 superfine 100% cotton mako batiste.
Of course, they are delivered in a noble storage and transport bag. Available already from 349,00 €!
These wonderful down duvets are available in four warmth classes: light, medium, warm and extra warm for very cold environments.. And in four sizes from 135x200cm to 260×220 cm. The Climabalance Home down duvets are filled with French down (90%) and feathers (10%).
The Bramscher Tuch made of the finest 135 cotton mako batiste made of 100% cotton is used as the cover.
Of course, these down duvets are also supplied in the elegant storage and transport bag and are available from € 149.00.