Österreichische Weidegans down duvet:
sleep with a clear conscience!
The Österreichische Weidegans (Austrian pasture goose) down duvet is ideal for people for whom species-appropriate husbandry, animal welfare and sustainability are particularly important. For people who want to make sure that their consumption decisions have as little negative impact as possible on the future of their children.
Because whether you want to buy a down duvet or a car, the question remains the same. Which purchase decision allows me to sleep with a clear conscience? And of course this applies even more to down duvets and down pillows – because you actually sleep in them every day!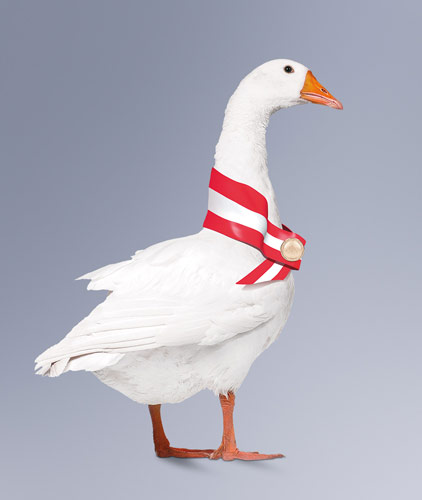 The Österreichische Weidegans down duvets and pillows are perfect for animal welfare and environmentally conscious people. When choosing the right down duvet and down pillow set, there are three main questions regarding sustainability:
Do the geese whose down fills my bedding have a species-appropriate life?
Is animal welfare taken into account in the production of my down duvet and down pillow? Is live plucking 100% ruled out?
Where does the down used for my down duvet and down pillow come from? How much CO2 is released during transport?
Down duvets and down pillows filled with down from the Austrian pasture goose offer a good answer to all these questions!
What does the term Österreichische Weidegans down duvet and pillow stand for?
The Österreichische Weidegans (Austrian pasture goose) is so called because it grazes daily on an open pasture. This type of husbandry for rearing and keeping geese in a species-appropriate manner is unfortunately not a matter of course today. Therefore, committed Austrian small-scale farmers have joined forces to implement species-appropriate goose husbandry under the quality label Österreichische Weidegans. The birds thank them with high-quality goose meat – and with down that others can only dream of. This is because the down of the pasture-raised goose is significantly fluffier and has a higher bulking power than that from conventional farming.
Due to the increased space requirements and effort of this species-appropriate husbandry, the quantity of animals kept and the down production is naturally limited. So every single willow goose down duvet in our limited edition is a real one-off of the highest quality. So it's no wonder that our Österreichische Premium Weidegans products are also distinguished by first-class quality in the processing.
First of all, our Österreichische Weidegans down is obtained exclusively from slaughtered animals. Afterwards, the goose down is washed, cleaned and sorted several times. During production, the seamstresses fill each check with exactly the same amount of the precious willow goose down. Wrapped in fine Bramscher Tuch, down duvets and pillows are created that meet the highest standards of animal welfare and eco-compatibility.
Because it's not just a lot of handwork that goes into our Österreichische Weidegans down duvets and down pillows. By obtaining the down in Austria, the transport routes are also kept short and the CO2 footprint low. Of course, we are also committed to environmental protection, social engagement and good corporate governance at our plant in Bramsche near Osnabrück.we live sustainability. And this is reflected in our "Österreichische Premium Weidegans" products. With Österreichischer Premium Weidegans duvets and pillows from Sanders-Kauffmann you sleep in the best quality. Without the slightest reason for a bad conscience.
Which down duvets and pillows made from Österreichischer Weidegans are available?
There is a wide range of goose down duvets and pillows filled with Österreichischer Weidegans. Sanders-Kauffmann offers a wide range of duvets and pillows of "Österreichische Premium Weidegans" quality under the Kauffmann brand. Our duvets are available in ten different sizes and three different warmth classes. From 1.35 metres wide by 2 metres long to 2.6 by 2.2 metres, there is a size to suit everyone. And of course, there is the right down duvet for every season, whether summer duvet, warm duvet or winter duvet. Our customers can choose between the warmth classes light, medium and warm.
The selection of down pillows made from Austrian pasture goose is also large enough to meet most requirements. The down pillows of the "Austrian Premium Pasture Goose" line are available in seven different sizes from 40×80 to 80/80 centimetres. Thanks to an inner filling of 70% feathers and 30% goose down and an outer filling of 100% goose down, they offer the highest lying comfort with the best support.
[products columns="3″ orderby="ID" order="ASC" ids="11561, 1716, 2641″]
Which Österreichische Premium Weidegans Down Comforter and Pillow Set is best for me?
Sanders-Kauffmann is the only supplier where you can buy an Österreichische Premium Weidegans Set. Here you can choose the perfect combination of blanket and cushion for you at your leisure. And benefit from the particularly low prices of the Kauffmann Österreichische Premium Weidegans Sets. Because with us, you can find an animal-friendly and sustainable down duvet and pillow set from just 399 euros. And you can sleep soundly, with a clear conscience, between high-quality down that respects animal welfare and the environment.