Save heating costs and sleep warm with the right winter duvet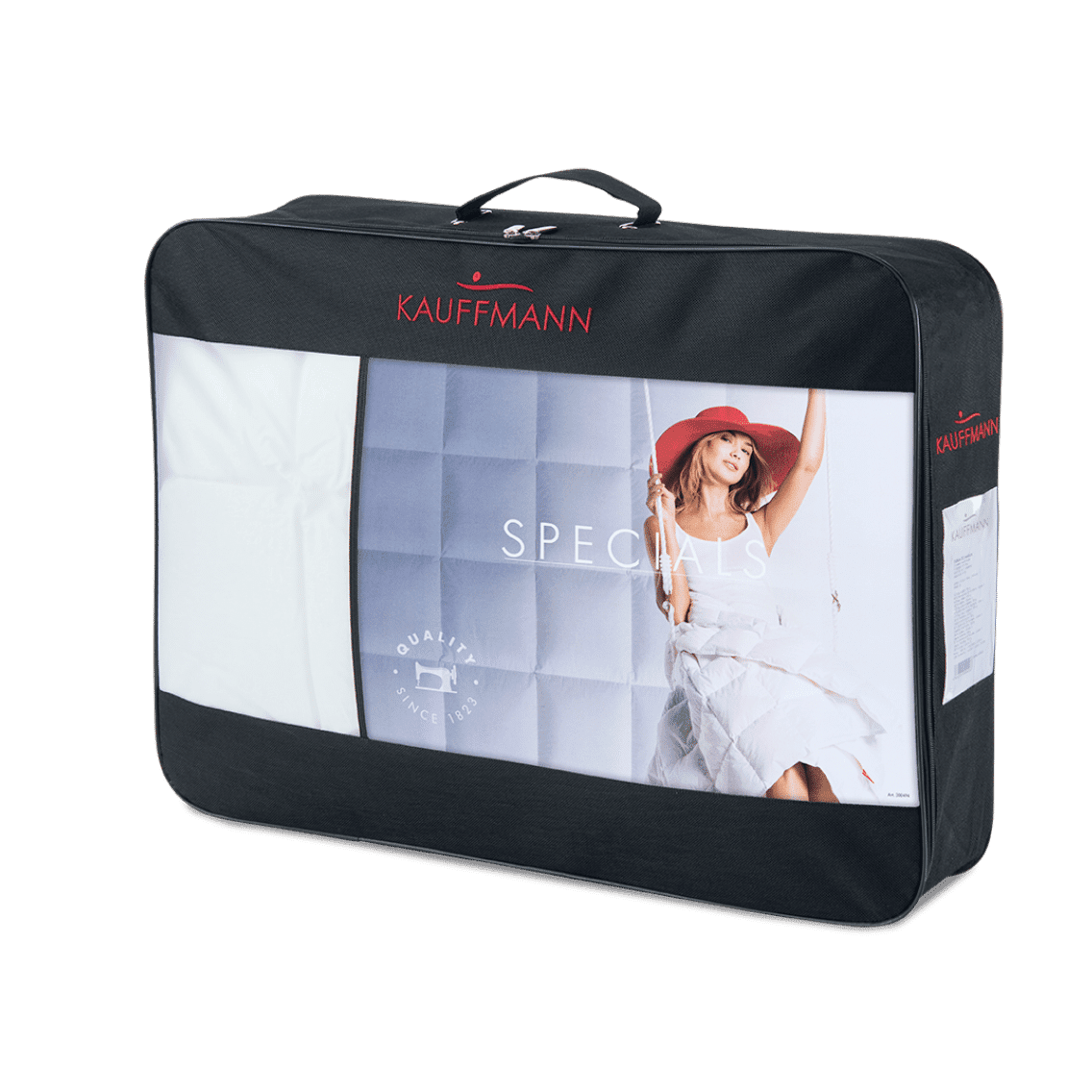 Inflation, soaring energy costs, exploding electricity prices – heating costs in Europe are rising like never before. Many people have to reckon with painful additional payments. Some of the monthly heating bills are three times higher than last year. No wonder more and more people fear freezing at home in winter.
But there is at least one thing no one needs to worry about: You don't have to freeze in bed, even if the radiators stay cold. Because a good down duvet ensures cosy warm sleep even at low room temperatures. No matter how low the outside temperature is, with the right down winter duvet you will have fresh air around your nose. But otherwise, you enjoy cosy warmth, benefit from perfect moisture removal and are guaranteed not to feel "suffocated" by heavy textiles.
Winter duvets filled with high quality, certified down with a high CUIN value, let you sleep comfortably even in a cool sleeping zimmer bestens schlafen. Nothing envelops you in cosy warmth better than the millions of tiny air pockets that are created in your down duvet.
With the down winter duvets from Kauffmann you save on heating costs – guaranteed without freezing!
What heating costs are we facing? Is it worth saving on heating costs at all?
In this winter of 2022/2023, even many smaller households will have to reckon with heating costs of well over 1,000 euros. For owners of detached houses, the heating bill can quickly add up to a few thousand euros. So it's not about saving a few euros.
If you change a few behaviours this winter and follow a few tips, you can definitely save a summer holiday for the whole family. And without having to freeze. It is therefore worthwhile to think carefully about how you can reduce your heating costs.
How much heating costs do you have to calculate per square metre?
The heating costs per square metre depend primarily on the heat class of the flat or house. In top-insulated properties, the heating costs per square metre can be between two and five euros. In normally insulated buildings, five to nine euros are normal. In poorly insulated, mostly older flats, however, heating costs of up to twelve euros per square metre can be incurred.
But how much heating costs can you actually save with a good winter blanket? You can easily calculate the costs for heating in the bedroom: Let's say your flat is in a normally insulated house, your heating costs are eight euros per square metre per year. Assuming your bedroom is 20 square metres, you can save up to €160 in one season.
This simple calculation shows that the investment in a good winter duvet from Kauffmann pays off in just a few years.
When should you start using a winter blanket?
Most people reach for the winter blanket when the temperature in the bedroom drops below 18 degrees Celsius at night. With a good winter blanket, however, room temperatures below 15 degrees Celsius are no problem.
What is the best winter blanket?
No one seriously doubts that down duvets are the best winter duvets. But there are hundreds of different down duvets – which one is the best?
In short, the best duvet is the one that has the highest thermal insulation capacity at the lowest weight. The thermal insulation capacity depends directly on the filling power of the filling. The filling power is scientifically defined with the CUIN value. The higher the CUIN value, the higher the thermal insulation capacity of the duvet. You can also say the other way round: the higher the CUIN value, the lower the weight of the duvet with the same thermal performance.
Again, the higher the CUIN value, the better the winter duvet. Kauffmann offers winter blankets with a filling power of up to 800 CUIN. Duvets with a filling of Icelandic eiderdown are considered particularly exclusive winter duvets. An eiderdown filling ensures an incomparable sleeping climate and maximum sleeping comfort. One example of this is the Eiderdaune Exclusive duvets from Kauffmann. For these luxury blankets, the down of the Icelandic eider duck is collected by hand from the nests by licensed farmers. So the rare birds and their brood never come into contact with humans. There is no more gently harvested, but also rarer down. That's why every Kauffmann Eiderdown Exclusive duvet is made exclusively for you by hand.
Another example is our bestseller, the Princess 800 made from 100% handpicked goose down. This goose down with 800 CUIN is very rare and therefore only available in small quantities. They are fantastically light and warm you night after night. Thanks to the superfine, light mako batiste made of 100% cotton, the down duvet nestles perfectly against the body.
But not only Pomeranian goose down is characterised by high CUIN values. – Blankets made from down from the Österreichische Weidegans also impress with enormous warmth at a low weight.
What should you look for when buying a winter blanket?
When buying a winter blanket, make sure that the filling material of your new winter blanket is of excellent quality. Appropriate test marks such as Downpass show you that the down used meets the most important ethical and qualitative standards.
Consider which filling weight best suits your sleeping habits. If you prefer a light duvet, choose a product with a high CUIN value and low filling weight. If you prefer a somewhat heavier blanket, a lower CUIN value will also suffice.
Another important quality feature of a winter duvet is the cover fabric. It should be woven from the finest possible yarns, such as the " Bramscher Tuch " used exclusively by Kauffmann. Blankets with the SansProCare ® sensitive finish are recommended for fans of particularly soft fabrics and people for whom particularly good moisture removal is important. This hydrophilic fabric quickly absorbs the moisture generated by the sleeper during sleep. Then it is distributed over a large area of all the fibres. This releases the moisture more quickly into the room air and creates a dry, warm bedding climate.
And so that you can fall asleep with a clear conscience, make sure that the manufacturing process of your new winter duvet meets all requirements. Down duvets from Kauffmann, for example, are only filled with certified down and feathers that are guaranteed not to come from live plucking. We also commit our suppliers to high standards of animal welfare throughout the entire production chain. And of course, all Kauffmann winter duvets meet the Oeko-Tex Standard 100. This guarantees human ecological compatibility.
You can find a selection of the best Kauffmannn winter blankets here: