With the launch of the new website sanders-kauffmann.eu, the Bramsch-based bedding manufacturer is now completing the integration of its companies and brands on the Internet and launching further globalization.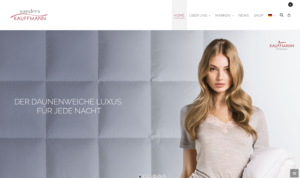 Bramsche, 22.01.21 – Since Monday of this week, customers and business partners of Bramscher Sanders-Kauffmann GmbH have been able to find all information about the company and its brands, as well as the Kauffmann brand online store with over 1,300 comforters and pillows, on a central website at the URL sanders-kauffmann.eu.
"With the decision to develop a central external image for all brands, we are taking advantage of synergies and have created a strong basis for the further internationalization of our company, which is already active in over 40 nations," says Alexander Singer, Managing Director of Sanders-Kauffmann GmbH.
In this way, the company is not only ensuring a uniform presence that finally offers the bedding manufacturer's business and private customers a central point of contact with all the company's information and products, but has also laid a decisive milestone for the further globalization of the company, which is already the market leader in Europe, emphasizes Singer: "In the new website, we have not only successfully presented the three established brands Kauffmann, Künsemüller and Sanders of Germany as well as our online store with over 1,300 products, but have already laid the foundation for the systematic roll-out of our globalization strategy: In just a few weeks, the site, which is now available in German and English, will also be offered in French and Russian, and in the second half of 2021, the site should also be available in Chinese to support our entry into this important market planned for this year."